National Men's Health Month
Guys, Get Your Health On!
By June, most of us have emerged from under the fleece blankets where we spent the frigid winter. The outdoors is welcoming, and we're excited to be there. Pottstown Health & Wellness Foundation shares inspiration on how to spend the warm days ahead. And, we nudge all the men out there to prioritize their health. We see you moving mulch, washing cars, and running behind tricycles. Put these health checks on your to-do list.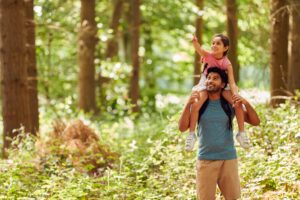 Men's the Word
June is National Men's Health Month. Conveniently, it is also when we celebrate Family Health and Fitness Day (June 12) and Father's Day (June 18). Consider these holidays a reminder to check in with yourself and the men in your life.
With their children as priority, parents often run out of time and energy for self-care. And managing one's health is the most important form of it. A long, successful life requires you to prioritize your health. People are relying on you. Be accountable.
Dads have a lot riding on their shoulders (and not just literally). Keep them strong, along with the rest of the body, by scheduling well visits with a healthcare provider and following up with any concerns. These visits determine which health screenings you need and when. Men's standard screenings usually include:
Prostate cancer
Testicular cancer
Colorectal cancer
Skin cancer
Hypertension (high blood pressure)
Cholesterol levels
Type 2 diabetes
HIV and sexually transmitted diseases
Glaucoma
Dental health
Annual physical exams establish your baseline health and determine personal risk factors based on genetics, lab results, and personal history. Talk with relatives to discover your genetic background and proceed accordingly. If you need help getting started, visit Community Health & Dental Care, a resource of local healthcare practitioners available in our area.
Get Flexible
Cold muscles are stiff and easily strained. Take advantage of summer's warmth to work on flexibility. When outside, do some light stretching. Consider making it a habit and include yoga or meditation. Find a local class that practices these stress-relievers under the summer sky. Once warmed up, increase your activity. Start a garden, go for a swim, or shoot hoops. Be sure to monitor your body temp to avoid overheating.
Hit the Trails
Join the 8th Annual Montgomery County Trail Challenge. Challenge yourself to determine how many trails you can hike or bike. Self-competition is a healthy way to increase your stamina and strength. There isn't anyone better to outdo! Plus, exercising outdoors gives workouts an extra boost, especially mentally. Being among trees and having earth under foot is grounding. It can be your personal reset button.
Find your oasis: a particular trail, a shade tree at the park, or a lake where you fish. During the summer, regularly seek out this peaceful space to escape from daily stressors. Visit the PAHWF Outdoor Activity Finder for some local destinations.
Get the Family Involved
Sign up for the Tuesdays in the Park 5K & Kids Fun Run series held every fourth Tuesday through August at Pottstown Riverfront Park. These community fitness festivities include free ice cream, free beer (21 years and older), and other giveaways.
Sure, it is peaceful to visit parks and spend time alone in nature. With summer days stretched before us, there is plenty of time to include family and friends in your outings. It takes extra effort, but joy shared is doubled. Invest in a backpack carrier for little tykes (bonus: strength workout). Pack a cooler with snacks and water. Start your summer adventure. It can be 20 minutes or an afternoon. Discover your favorite places where, together, you grow healthier.