Discover Good Health on MontCo Trails
Now is the time to enjoy the spring weather, breathe some fresh air, and start exploring! With over 92 miles of trails, Montgomery County Parks and Recreation has launched the 8th annual Montgomery County Trail Challenge. 
Last year's participants reported serious benefits from participating in the challenge, with 84% reporting improved physical health and 96% reporting improved mental health. In fact, spending time in nature is a well-documented way to reduce stress and ease anxiety. 
Look for the special MontCo Trail Challenge markers at any of the 17 participating trails across the county and pick up a score card at trail kiosks or download them from the county's website (available in English, Spanish, and Korean). You can register yourself, members of your household, and even your canine companions!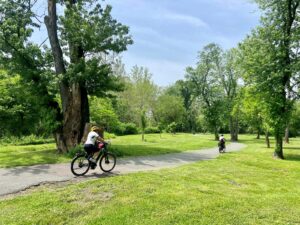 A few local trails that are part of the challenge include the Schuylkill River Trail, Green Lane, the Perkiomen Trail, and Schuylkill Canal Towpath Trail. This year's list even includes an option on the water, the Perkiomen Water Trail, which offers 18 miles of navigable waterways between Green Lane and Oaks.  
Travel further from the Pottstown area and across the county to explore even more trails. A map of all 17 eligible trail segments is available here, and you'll earn recognition for exploring as many county trail locations as you can this year!  
PRIZE CATEGORIES  
Explorer: 5 trails 

 

Adventurer: 10 trails 

 

Pioneer: 15 trails 

 
The challenge runs through December 3, so get out there and go enjoy all the trails MontCo has to offer! Share your adventures and tag #MontcoTrailChallenge when you post! 
Explore all the wonderful recreational opportunities the Pottstown Area has to offer by using our Outdoor Activity Finder.