Pottstown Parks and Recreation's
Play Streets
WHAT IS POTTSTOWN PLAY STREETS?
Pottstown Play Streets is a seasonal award-winning summer recreation and community development program delivered over a series of seven two hour events on Thursdays from June to August.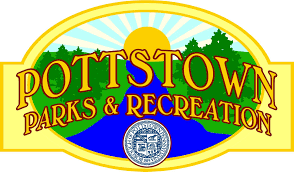 It takes place on streets near parks or green spaces throughout the Borough of Pottstown. The partners behind the program, the Play Streets Coalition, temporarily close a neighborhood block to traffic, set-up tables for partner outreach and activities, and disburse free play equipment to create safe, fun, and healthy public spaces for children, families and neighbors to connect, play, and learn right outside their doors. It gives kids of all ages more space to be active.
NOTICE: The August 10 Play Streets session at Spruce Street Park has been canceled due to inclement weather.
Pottstown Play Streets 2023
Thursdays 5:30 - 7:30 p.m.
June 15 - August 10, 2023
PARTNERSHIP & COLLABORATION
This program would not be possible without partnership and community. Pottstown Play Streets is led by the Borough of Pottstown Parks and Recreation Department. They are part of the Pottstown Play Streets Coalition convened by the Pottstown Area Health & Wellness Foundation to help provide this program to Pottstown residents.
As of June 20, 2023, Coalition members include: ACLAMO; Be ReZilient, Healing Through The Arts; Borough of Pottstown Parks and Recreation Department; Community Health & Dental Care; Family Services of Montgomery County; Foundation Church; Genesis Housing Corp.; Greater Pottstown Tennis & Learning; Health Partner Plans; Montgomery County Community College; Mother Goose Read to Me; Pottstown Area Health & Wellness Foundation; Pottstown Children's Discovery Center; Pottstown Community Action; Pottstown Community Arts; Pottstown Cluster of Religious Communities;  Pottstown Hospital - Tower Health; Pottstown Trauma Informed Community Connection; Rahab's Hope; The JT Dorsey Foundation; The STRIVE Initiative; Traces of Love Association; Trellis for Tomorrow; and YWCA Tri-County Area. These partners will support and attend at least one or more Play Streets events in Summer 2023. Financial support for Pottstown Play Streets 2023 has been provided by Kidz Partners by Health Partners Plans, PAHWF, and the Pottstown Neighborhood Partnership - KeyBank and Genesis Housing Corporation.
Play Streets has been used throughout the world as a tool to address barriers to outdoor physical play. The first Play Streets in the United States happened in Harlem NYC in 1914. Regular physical activity and play in childhood and adolescence have many benefits, including improving healthy bones and muscles, reducing anxiety and stress, and increasing self-esteem. Despite these benefits, approximately 3 of 4 United States adolescents still do not meet national physical activity guidelines. In several communities across the United States, traffic, violence, and crime are barriers to parents allowing children to play outside. (Examining the Implementation of Play Streets: A Systematic Review of the Grey Literature, Journal of Public Health Management and Practice ; 4 ways cities are embracing and promoting playful learning in their communities, Brookings).
The Foundation's 2018 Tri-County Area Community Health Needs Assessment found that nearly half (48%) of Pottstown adults reported that they do not have a park or green space that they are comfortable visiting. In comparison, 20% of adults living within the Spring-Ford school district report that they do not have a park or green space that they are comfortable visiting during the day.