Healthy Living
Healthy Eating & Nutrition
Start incorporating colorful, nutrient dense foods into your diet.
Eat minimally processed, less refined food.
Visit a farmers' market to explore wholesome, local options.
Healthy Eating Resources in the Pottstown Area
Lower calorie, colorful, nutrient dense foods are vital for maintaining optimal health. A diet rich in whole plants like fruits, vegetables, whole wheat, and legumes provides the nutrition necessary for our bodies to avoid preventable diseases and promotes optimal wellness.
Improve Your Diet
Improving your diet doesn't mean you have to give up all your favorite foods. Instead, try swapping out less refined alternatives in your diet—use wheat bread instead of white, or try oatmeal in place of a processed breakfast cereal.  Small changes like avoiding the empty calories in sugary drinks add up to create a better diet over time.  Avoid fad diets and instead take small steps that allow for a sustainable pattern of eating healthier.
Local Sources
Locally sourced foods are a great choice for your health and for the environment. Visit a farm market in the Pottstown Area, including Pottstown FARM and Althouse Arboretum. Both markets feature locally sourced food and provide an opportunity for getting to know the farmers, bakers, and other producers who work hard to put food on your table.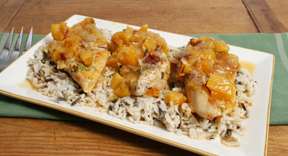 <span class="uabb-tag-links
Warning: Undefined variable $j in /var/www/vhosts/pottstownfoundation.org/httpdocs/wp-content/plugins/bb-ultimate-addon/modules/blog-posts/blog-posts.php on line 2253
uabb-last-tag">Meats Poultry Fish & Seafood
Ingredients: 4 tablespoons olive oil1 large onion, cut in half lengthwise and thinly sliced1/2 teaspoon minced garlic1/2 teaspoon ...