Help A Nurse, Help Us All
Nursing was a stressful career even prior to COVID-19. Now, after three years of a worldwide pandemic, nurses are experiencing extreme burnout. As they struggle to cope with the relentless demands of their career, the healthcare industry as a whole suffers. Pottstown Area Health & Wellness Foundation (PAHWF) shares insight on these realities and how we, as a community, can overcome them.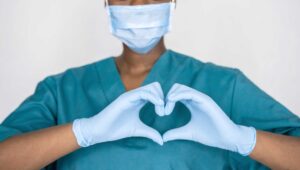 Nurses Get It Done
During National Nurses Month, we are reflecting on the extensive skills and compassion nurses share at every visit to a medical facility. In addition to the heartbreak of witnessing loss of life from birth through old age, they are the ones who rush to provide treatment, ease pain, and hold our hands through it all. Their strength, wisdom, and dedication during the darkest hours of health give courage.
Chronic Stress on the Job
When the unexpected hits—anything from a health emergency to an international crisis—a nurse answers the call. If this involves a highly transmissible, deadly virus, it must be faced head-on, without hesitation, and (in COVID-19 times) in isolation. Healthcare professionals likely never imagined a scenario like that of the COVID-19 pandemic when they entered the profession. Yet, that's what they got. The resulting physical and mental strain has caused many to suffer silently through their days.
A pre-pandemic review published in the Journal of Clinical Nursing found 96 percent of nurses had experienced at least one symptom of post-traumatic stress disorder (PTSD), with nearly 21 percent meeting the criteria for a clinical PTSD diagnosis. The pandemic exacerbated an already-concerning situation.
Along with the effect of caring for those with an illness shrouded in mystery and fear, nurses often had to quarantine from loved ones. They were unable to benefit from the coping respite of a warm hug or a night of Netflix at home. This compounded the already-felt stresses of nursing like long hours, short staffing, and patient traumas unrelated to COVID-19.
Coping Through Hope
Organizations, including PAHWF, are working to provide resources and support for nurses. Recognizing their contribution to our community's health is a simple, effective way to reward their positive impact. Their job consists of many challenges, but they should not be thankless.
Honoring the nurses who care for us with a simple gesture of appreciation benefits the recipient and all those for whom s/he cares. "You Make a Difference" is the official theme of Nurses Month. Remind nurses of their priceless value. Encourage them to practice self-care to maintain the physical and emotional strength they need to care for others.
Along with self-care standards like meditation, exercise, and a hot bath (extra aromatherapy salts, please), nurses should consider joining a nurses' support group. Initiatives continue to be launched to care for these professionals who make up the largest segment of the healthcare profession. We all should act to ease the burden felt in this career.
Through their program, Healthy Nurse, Healthy Nation™, the American Nurses Association strives to "improve the nation's health one nurse at a time." Practicing self-care and focusing on their own health should be encouraged as another way to help their patients. As one of the most trusted professions, nurses serve as role models for a healthy, balanced lifestyle. Confronting mental health issues (like PTSD), eating a healthful diet, exercising regularly, scheduling their own well visits, and seeking therapy are ways to demonstrate the same healthy living nurses work to nurture.
National Hospital Week
During the week of May 7, the spotlight expands to include other practitioners in the health system. Like nurses, hospital staff face stressful scenarios, some life-and-death in nature. Promote these everyday heroes.
Remind the world these are humans, in need of the same care and kindness as the patients they treat. Share appreciation on community billboards and social media. (For extensive impact, use hashtags: #NationalHospitalWeek, #ANANursesMonth, #YouMakeADifference.) Volunteer at your local hospital. There are many opportunities to assist staff or help at community outreach events.
Go Big or Go Small
Whether you quickly share this article on social media or give recognition to a nurse in need (and they all are), do something. Take a moment or donate an afternoon. Support our nurses so they will be there to support us.