Celebrate Earth Day April 22nd 2023
Make Every Day Earth Day
Originally rooted in creating awareness of environmental problems, Earth Day has evolved into a celebration of the great outdoors. Pottstown Area Health & Wellness Foundation shares ideas on how to kick off the warm-weather seasons, starting with meaningful Earth Day activities.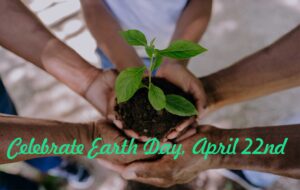 Begin at Home
We are all living on our little piece of borrowed earth. Make your surroundings green and friendly.
If you have a yard, nourish the soil with native plants and wildflowers. They will attract beneficial bugs, help pest control, and encourage pollination. Water flower beds and lawns only as needed rather than on a routine schedule that ignores rainfall and natural thirst indicators. Avoid using chemical treatments for weeds and fertilizer. Instead, seek products with natural ingredients.
If you don't have yard space, potted plants are a beneficial alternative. They purify the air. Plants—greenery and florals of any kind—even can deliver a mood boost.
Think Outside the Forest
Trees have much to give, often over many generations. They are a symbol of strength; yet, they are gentle with their comforting canopy of shade, scent, and beauty. Recognize Earth Day by planting a tree. Arbor Day 2023 is April 28, another noteworthy occasion to honor by planting and caring for trees.
Small trees can thrive in pots and gardens. Larger varieties work well as property borders and in community areas. Encourage the health of trees as well as the surrounding landscape. Add mulch at their base, weed often, and remove dead branches and leaves. Small upkeep helps hydration and growth. It's the secret of many green thumbs.
Stop by the Perkiomen Watershed Conservancy's native plant sale. Buy, browse, or simply spend time in the presence of a future forest at this tree-loving community event.
Clean Up
Plastics and other disposables that don't break down are a troubling occurrence in our natural spaces, so grab a trash bag and pick up litter at one of the community cleanup events happening this spring. Schuylkill River Greenways  is one of the many local organizations hosting cleanup events on Earth Day weekend and beyond. With everyone's help, all those stray bottles and other trash can be quickly and properly discarded, leaving time for socializing and outdoor fun.
Be proactive. Try to reduce (eliminate!) your use of disposable goods. Stock up on reusable bags, bottles, and containers. Purchase from companies that focus on reducing their footprint by using recycled packaging and recyclable containers. Reduce the likelihood of stray trash collecting in all corners of the earth.
Have Fun
Take time to enjoy the earth's extensive beauty. Gather outside with friends and family. Visit local parks for activities, including Schuylkill River Greenways' Take It Outdoors program, which provides kayaking, canoeing, and cycling equipment at Pottstown's Riverfront Park. Indulge in some creek snorkeling or volunteer to help restore healthy watersheds at Green Valleys Watershed Association. Take more walks. Learn about the stars, birds, and weather cycles.
The more you appreciate all the earth offers, the more you will strive to protect it. It's a vast world out there. Respect it. And make fun of it!