Poison Prevention In Your Home
Poison Prevention Awareness Week has evolved into a month-long recognition in March. Pottstown Area Health & Wellness Foundation shares reminders of how to best protect your family by maintaining a safe, healthy home.
Home should be a safe haven from the world's dangers. Yet, 90 percent of reported poison exposures occur there. Poison prevention is one way to protect the health of those who visit and dwell in our home. March is designated as a time to recognize the poisons with which we coexist. It's a time to determine their necessity and, if needed, proper storage.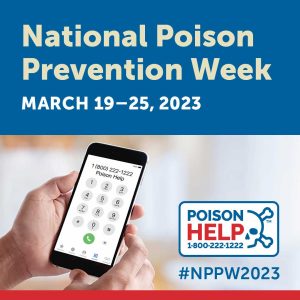 Do This First
Despite best efforts, at some point you may have a poison emergency or an urgent question. Add the Poison Help phone number to your saved contacts. Let March be a reminder to ensure you have the poison safety hotline on speed dial in your latest mobile devices. Display the number in your home, on places like the refrigerator and bathroom cabinet, especially if you have children under your roof.
Poison Help Line: 1-800-222-1222 – free, confidential expert advice 24/7/365
ASPCA Animal Poison Control Center: 1-888-426-4435
Determine Needs
Household products have advanced in recent years to include more powerful non-toxic versions, including lawncare solutions. They're safer for the environment and the living beings that inhabit it, including our beloved pets. Consider trying these alternative items, which you can feel more at ease about storing in your home.
Properly dispose of chemicals when finished. Do not leave containers lying around, even if empty. Make sure they are sealed in a trash receptacle with a lid. Never reuse these containers. Store all toxic products in their original packaging. Check expiration dates. If products have expired, it is senseless to risk the dangers of keeping them. Practice good hazardous waste hygiene.
Store Safely
Safely store all poisonous supplies out of children's sight and reach. If possible, securely lock them in a place inconvenient to kids. (Think shed or basement.) If you store cleaning supplies in bathroom or laundry room cabinets, install locks on them. Realize childproofing and locks may only be a nuisance to kids, buying you extra time before they eventually reach danger.
You may be surprised by what can be poisonous, especially to young, curious minds with "sticky" fingers. Your glass of wine can look like delicious juice. A button battery or laundry detergent pod can seem like candy. Gummy vitamins even taste like candy.
Don't forget about safe food storage. Food itself can be poison if not stored at the correct temperature. The FDA recommends 40 degrees Fahrenheit or below for refrigerators and zero degrees Fahrenheit for freezers. Appliance thermometers are inexpensive ways to monitor the temperatures. It is unsafe to defrost food on the counter at room temperature. Not following expiration dates and cooking guidelines are additional dangers.
Use Properly
Mixing chemicals may produce a deadly concoction. This can result in poisonous fumes or lethal medication interactions. Read labels and package inserts. If uncertain if your medications can be mixed, ask your pharmacist and prescribing physician. Some drug interactions can negate other life-depending medications.
Install a CO Detector
Protect the air you breathe with a carbon monoxide detector. This colorless, odorless gas can trigger illness and become deadly. Install detectors in the area where you sleep and near major appliances such as the furnace or water heater.
Dispose Appropriately
Many pharmacies offer a drug takeback program for expired and unused medication. Check your neighborhood pharmacy. If they don't offer this service, they should be able to direct you.
Avoid flushing unused medicine down the toilet, unless you don't have another option and need to eliminate it. If you must throw it in a trash can, destroy it first by crushing it in a sealed bag with something undesirable like dirt or used coffee grounds. Then, place in an outdoor trash receptacle with a lid. Remove all personal identification information from the bottles.
For household hazardous waste, visit Montgomery County's website to learn dates and locations of waste collection programs/events.
A little effort goes a long way for poison prevention. You and your loved ones deserve healthy air to breathe and a safe environment in which to grow and thrive.
Source
America's Poison Centers at AAPCC.org