Gardening Blooms Better Health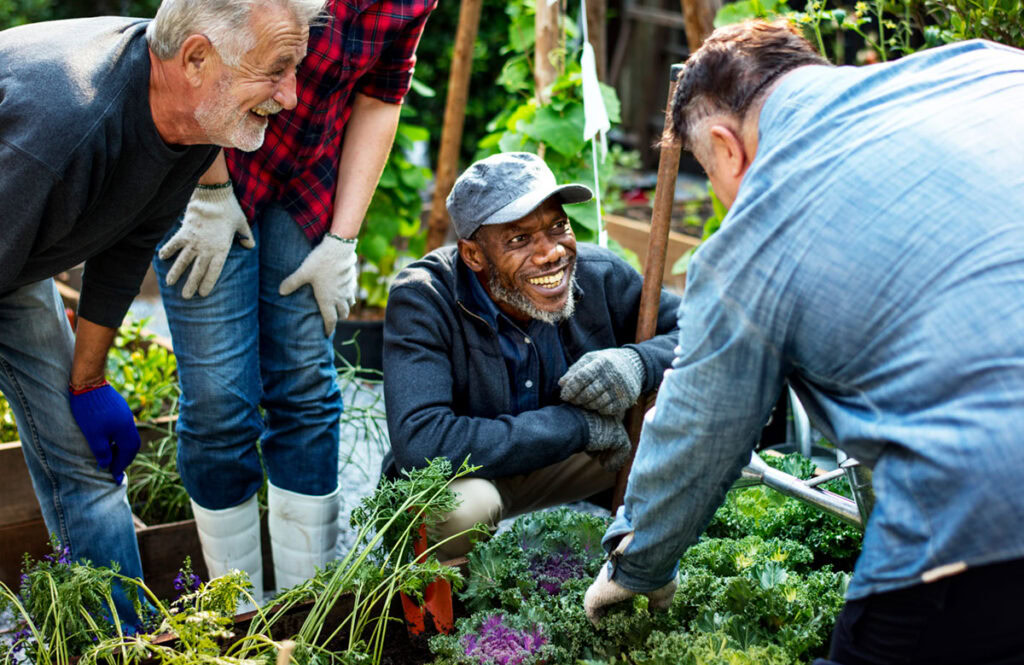 After winter pandemic months kept us indoors, spring fever is the only contagion we're happily ready to catch. Getting outside benefits our health. Nurturing a garden, even simple pots on a patio, further grows those benefits beautifully.
How Your Garden Grows Your Health
Nature is a powerful force. The scenery and sunshine alone reduce stress, boost creativity, and improve cognitive functioning and blood pressure. Gardening enhances these perks by providing physical activity. Its maintenance increases dexterity and strength while requiring aerobic exercise. All that digging, mowing, and raking blasts calories. Plus, with the focus on gardening, we often forget we are working up a sweat! Consider it a micro-gym in your backyard.
Caring for a garden improves mental health by giving purpose. On days when you otherwise may want to laze on the couch, a garden motivates movement. It needs daily attention to prevent the ongoing threat of weeds and wilting. The mere thought of an overgrown flower bed inspires many to abandon their binge-watching habits. The fruits of their labor are a beautiful reward—sometimes literally in the form of homegrown produce. Being submerged in nature, with all its majestic greenery, simply makes us feel good.
The Social Aspect
Supposedly, talking to your plants is proven to help them grow. However, gardening can provide socialization beyond this one-way conversation. Whether your home landscape is complimented by passersby or you are part of a community effort, gardens get people talking.
Beautifying the community, one yard at a time, improves quality-of-life for the gardener and the neighborhood. It stimulates social interactions. In the case of community gardens, it creates opportunities to work and learn together while improving self-reliance. If you happen to produce food in your garden, you have the added perk of healthful nutrition and reduced grocery bills. And an excuse to knock next-door and share!
Get ideas for your outdoor oasis by participating in the Boyertown & Pottstown Garden Tours. Meet likeminded neighbors who experience the joy of gardening. These self-guided tours provide garden descriptions, maps, friendly (masked) faces, and four hours dedicated to exploration and enjoyment. You can vote on your favorite. Learn more at: https://www.homegardencontest.com/events.
Grow Your Own
A small potted garden is easy to grow anywhere, even on sunny windowsills. You don't need a green thumb to manage an herb garden. This wholesome greenery often grows like weeds. Snip from it throughout the season to enjoy fresh mint in your tea or basil for your salad. Consider growing tomato or pepper plants. Studies prove Americans do not consume the recommended number of fruits and vegetables. Let's use that stat as fertilizer to do better, without spending lots of money. Reap the convenient (and economical) rewards of your own labor!
Love Your Garden?
Don't be shy about sharing! Enter your green space in the annual Home Garden Contest for cash prizes. There are categories for gardeners of all abilities and ages, including children. You also can nominate other home gardens in your neighborhood. Check out the details: https://www.homegardencontest.com/registration.
Safety Tips
Gardening is therapeutic but don't let it be a cause for therapy!
Always stretch before, after, and during yardwork. Keep muscles loose.
Stay hydrated. Have water with you at all times.
Wear sunscreen, a hat, and sunglasses. Soak up vitamin D not the harmful rays.
Dress in layers to accommodate shifting body temperature, common during a gardening stint. (Think weeding versus shoveling.)
Wear proper shoes to protect your feet.
Gardening is a scientifically proven alternative therapy to improve our health and our earth. It is an inexpensive hobby, available in some form to everyone. Once again, it is amazing what can grow from a single nurtured seed.