Brighten Your Wellbeing with Emotional Wellness
Cultivating wellness requires ongoing and evolving effort. It involves taking actions in our best interest to enjoy a healthier existence. Pottstown Area Health & Wellness Foundation shares tips on creating your optimal state of wellbeing, despite life's challenges.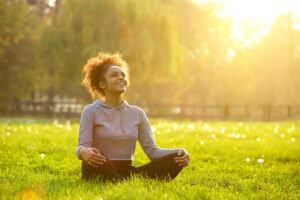 Get Personal
Define what wellness is for you. Your path to achieving this state will differ from others. A person dealing with loss or suffering from an illness will have a different version of wellness. Circumstances and challenges will affect your current state of wellbeing. However, with resilience, we can still strive to live our best life, even when dealing with setbacks and heartache.
Know your current limitations and work within those boundaries to nurture your best health.
Manage Stress
In today's world, stress sometimes has positive connotations. Like its sidekick, busyness, it signifies a life full of demands and tasks. It indicates importance. Yet, as we know, chronic stress is not impressive. It takes a heavy toll on our physical and mental wellbeing as well as our loved ones.
Although inevitable, stress can be managed. Try adopting these healthy habits:
Get quality sleep. Adults should aim for about eight hours.
Exercise regularly. Increase your heart rate to burn off stress in as little as 10 minutes. If you don't have time for a cardio workout, do some jumping jacks, climb the stairs, or take a brisk walk.
Eat healthful foods. You are what you eat. Tame stress-induced cravings for junk food with healthy alternatives. Or, leave the kitchen and do something fun.
Enjoy Time Outdoors
Fall is a beautiful time to get outdoors. Nature has many benefits, including the ability to heal, reduce stress, and improve physical health. When you're unable to go outside, research has found a potted plant in your room or facing a window with greenery outside is helpful.
Pottstown Area Health & Wellness Foundation's (PAHWF) activity finder provides options, whether you want a daytrip or a short hike. For more inspiration, PAHWF offers ideas for outdoor activities. Fall is time for many fundraising 5Ks, bike races, and walkathons. Simultaneously enjoy exercise, the great outdoors, and community fun—all for a worthy cause. Plenty to enhance your wellbeing!
Get Social (in the Real World)
Abandon social media platforms for some quality in-person time. Nothing beats the comfort of a warm smile or fierce hug. Those who have a strong social support system tend to be physically and emotionally healthier. Studies also indicate our social connections can lengthen lifespan. Social beings enjoy a sense of purpose, including the simple need to show up.
Prioritize your friends and family. Expand your social circle to include those with common interests through book clubs, cooking classes, fitness, and worship groups. Volunteering also provides a nice boost to your wellbeing while helping others.
Practice Self-care
Not all exercise requires exertion. Deep, focused breathing and mindful awareness are mental exercises that help you achieve and maintain wellness. Through daily practice, we manage the challenge of overcoming stress and improving overall health. Practice mindfulness throughout your day. Recognize the person within rather than autopiloting through the outer world.
Find what brings you peace and make it a habit. Revisit this concept. It will evolve as you grow. Respond with the care you need, whether it be quiet time with a book or a soothing chat with a friend.
Practice wellness every day, even through small but meaningful acts, and you will journey toward your best wellbeing.
Suicide Hotline
If you or a loved one is in crisis, please call the 24/7 suicide prevention hotline. It is completely free and confidential.
In the U.S., call the National Suicide and Crisis Lifeline: dial 988.
In addition, PAHWF provides Mental Wellness resources.