Disaster Preparedness in the Pottstown Area: Prepare to Be Safe
With kids returning to school, it's the perfect time to teach ourselves how to prepare for the unpredictable. September is National Preparedness Month. Pottstown Area Health & Wellness Foundation (PAHWF) shares the latest guidance on how to remain safe when confronted with disasters and emergencies.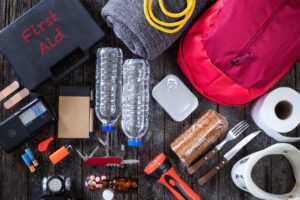 Life Is Unpredictable
You work hard to build the best life for yourself and your loved ones. Go a bit farther to prepare your response, and improve your outcome, in emergencies. Taking some basic precautions reduces risks and severe consequences when trouble strikes. As the saying reminds us, "You can't control life, but you can control how you react to it."
Natural Patterns of Risk
Although it may seem like the worst of summer storms are behind us, mid-September is the height of hurricane season. Heavy rains and wind have caused devastation in our area in recent years and are likely to do so again.
Many emergencies are universal. Flooding, fires, wind, and power outages can affect communities everywhere. Visit ready.gov for more information on assembling an emergency kit, creating a plan for your household in case of a disaster, and information on dealing with specific risk events. This year's National Preparedness Month emphasizes ensuring older adults are prepared for disasters.
Other Specific Hazards
Not all disasters are weather related. Hazards including fires, industrial accidents, and explosions all can create unforeseen challenges. Always be sure you are registered with your municipality's emergency alert system to stay aware of localized risks.
October is Fire Prevention Month, and many local fire departments are hosting open houses and education sessions this time of year. Learn how to reduce the risk of fire in your home. Remember to replace batteries in smoke and carbon monoxide detectors and test regularly.
Emergency management and preparation measures depend on your specific environment and location. Although nuclear power plants are among the safest and most rigorously maintained facilities in the nation, community members living and working near the Limerick Generating Station should know how to quickly respond in the unlikely occurrence of a radiation event.
For those living, working, or attending school within a 10-mile radius of a nuclear power facility, your emergency plan may include keeping potassium iodide (KI) tablets on hand. KI tablets can be obtained free of charge through the Pennsylvania Department of Health (1-877-PA-HEALTH). For emergency information specific to the Limerick area, click here.
Pack Essentials
Have necessities gathered so you are ready to shelter in place or move without delay. The pandemic taught us to prepare for the unimaginable. An emergency bag should include everything you'd take for a weekend getaway.
Some items to get you started:
Prescription medications and over-the-counter staples like acetaminophen and allergy remedies
Prescription eyewear
Pet-care items (food, water with bowl, leash)
Packaged, nonperishable snack foods
A change of clothes with decent socks and sneakers
Coat, if appropriate
Maintain an Emergency Kit
If you dig around the house enough, you'll likely find a stray flashlight and some batteries. This is not preparedness. Keep emergency essentials together in an area known to every member of your household. "Maintain" is the key action here. An emergency kit should be checked regularly to ensure items still work and are not expired.
Standards to get you started:
Flashlight
Clean drinking water (one gallon per person per day, for drinking and sanitation)
Baby formula and diapers
Nonperishable foods (canned goods with can opener, granola bars, nuts [if no one is allergic], cereal, dried fruit, etc.)
Personal hygiene supplies
Bandages and topical injury ointment
Cell phone chargers
Matches in a waterproof container
Important documents in a waterproof container
Blanket
Battery-powered radio
Extra batteries
Extra house and car keys
Paper, pen, and pencil
Whistle
Protect Your Property
Be proactive to lessen a disaster's impact on your home and life. Indoors, keep important documents in a fire- and waterproof safe. Even family photos can be downloaded on a flash drive and safely stored.
Keep flammables away from the house. Upgrade windows and doors to withstand severe weather. Anchor down outdoor property. View your landscape with a villainous eye to all damage that can be done. Then, be a home hero and address it!
Connect with Community
Your community is available to support you. Consider signing up for ReadyMontco, ReadyChesCo, or Berks Alert emergency notification systems for alerts to be sent to your cell phone, email, or landline. It is also helpful to know your neighbors. Although you may not be sugar-borrowing best friends, neighbors can share insight (yes, my internet cable is down, too) or lend a hand in an emergency (even just to call 911).
Hopefully, you will never face a disaster or major emergency. Accidents are part of life though. All you can do is prepare for the worst and hope for the best.