Summer Bucket List – Safety Edition
Summer can feel like the fastest time of year, a brief respite when school is closed and the community comes alive outdoors. Pottstown Area Health & Wellness Foundation (PAHWF) reminds us to practice these safety tips to maximize fun in the sun.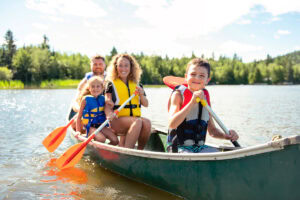 Schedule Mindfully
Warm sunshine invites plenty of outdoor activities. And there are many fun, healthy activities to stay active. Perhaps you want to sign up for one of the Tuesdays in the Park 5K & Kids Fun Runs at Pottstown Riverfront Park, learn golf, or make hiking a habit. Maybe you want to spend a long weekend fishing and camping. Or, stay close to home and visit the Pottstown Farm & Artisan Regional Market for fresh local produce and unique products crafted by local artists (held every other Saturday at Smith Family Plaza). Borrow a bike through Bike Pottstown or rent a kayak through Take it Outdoors.
Welcome cooler evenings on Thursday nights with Pottstown Parks and Recreation's Play Streets  from 5:30 p.m. to 7:30 p.m.  These community events that provide free, safe, fun, and healthy public spaces for children, families, and neighbors to connect, play, and learn right in your neighborhood. Held at a new location every week!
Don't forget to schedule downtime for relaxing chats with family, random walks, spontaneous ice cream treats, and napping in your favorite chair or hammock. Keep summer leisurely by avoiding overpacked days. Be choosy. You don't need to attend every cookout or beach outing. There are plenty of low-key, cost-free ways to enjoy summer right in your backyard.
Breathe a Cleansing Breath
Monitor outdoor conditions to avoid overheating and triggering asthma or allergies. If air quality is poor or temperatures are hot/humid, stay indoors. Visit AirNow for the Air Quality Index. The site also has tips on minimizing health issues from air pollution, including smoke and ozone.
Prepare for Heat
When venturing into summer heat, wear clothes made of sweat-wicking fabric. Loose-fitting clothing allows sweat to evaporate easier. Light colors reflect heat and make ticks more visible on your clothes. (Don't forget the bug repellent to keep off ticks and mosquitos in the first place!) Some medications have side effects in the sun and heat. Be aware and avoid exposure, if required.
Stay Hydrated
Drinking water helps the body sweat freely, which helps maintain normal body temperature. When you lose more fluid than you consume (like on a hot, active day), your body struggles to maintain normal functions. Signs of dehydration include thirst, dizziness, fatigue, dry mouth, and lightheadedness.
Prevention is best. Always have a bottle of water available and drink frequently. Snack on fruit with high-water content: watermelon, oranges, and grapes. Staying hydrated also helps you keep cool. Chug down some water before heading outdoors.
Limit alcoholic beverages. Summertime favorites, topped with fruit and an umbrella, may seem refreshing. However, alcohol actually dehydrates your system. If you want to indulge in a cocktail, do so with a full glass of water before and after. If you struggle to limit alcohol intake, visit PAHWF's addiction resource page for support. It's always the right season to learn more and seek help.
Protect Your Skin
Use smarts when soaking up the sun. Your skin is your largest organ; it protects you against the often-harsh environment. Apply a broad-spectrum UVA/UVB sunscreen approximately 30 minutes before going outdoors. Continue to reapply as needed, especially after water contact and sweating.
Don't forget to wear sunglasses and shadow your face with a hat. Some clothes, including swimsuits, are made with built-in UV protection. Consider these for your kids. Remember the sun is strongest between 10 a.m. and 4 p.m. and plan your day accordingly.
Respect the Water
Summer fun often involves water. We love cooling off with visits to the ocean, lake, or pool. Take precautions, especially with little ones and those who cannot swim. Use life vests, avoid swimming alone, and never—under any circumstances—leave children unattended near water.
Consider taking swim lessons, regardless of age. Even seasoned swimmers can improve skills and learn new techniques. Often, classes teach water-safety basics as well. Depending on your budget and comfort-level, lesson options usually include private and group versions. Check out the local YMCA's lessons.
Don't Sweat It
Live your best summer yet. It does not have to resemble a postcard or rival your coworker's island vacation. Enjoy its simplicity, warmth, and brightness. With minor safety precautions (including protecting your schedule from overfilling), you can make the most of each day.