Music's Place in Medicine
Pottstown Takes a Look at Music Therapy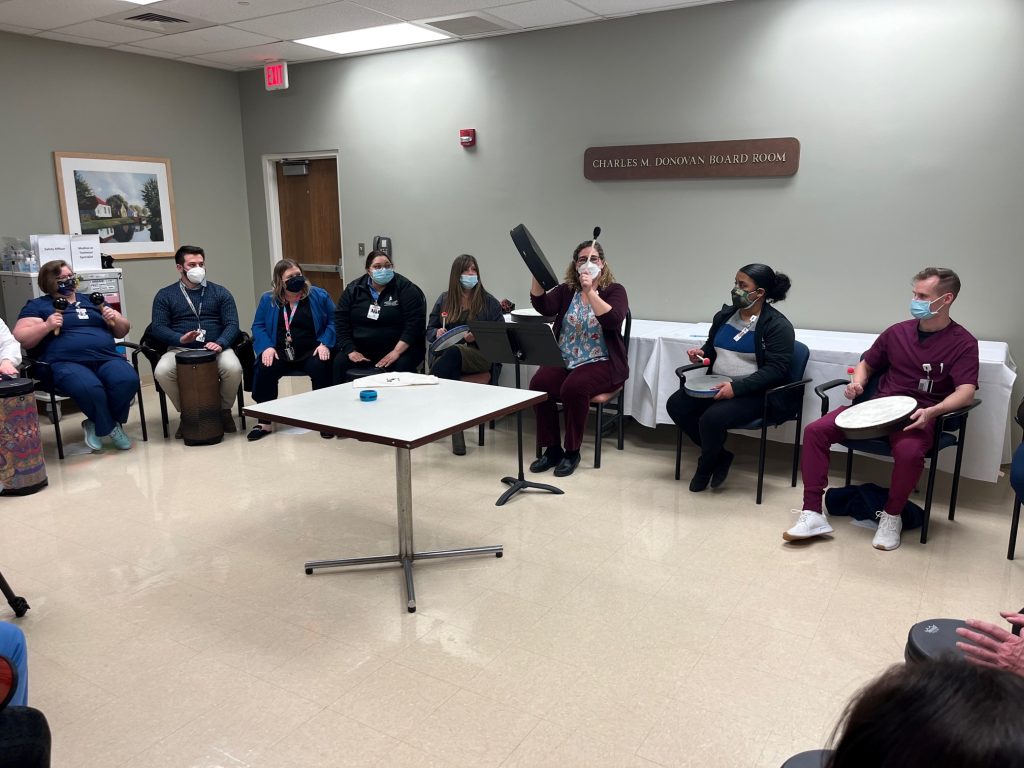 From bringing back a moment in time to uplifting a heavy mood, music makes an impact. Experts realize this, including those at Pottstown Hospital—Tower Health. During an informative interview, Pottstown Area Health & Wellness Foundation learned how the medical world uses music to help heal. Take note! You'll want to sing this tune in your everyday life.
High Notes on Benefits
Music's powerful impact is scientifically proven. Reduced stress and anxiety, improved healing, decreased depression, brightened mood, and enhanced communication are some top benefits.
According to research, music can be therapeutic in facilitating movement and physical rehabilitation. It acts as a motivator to cope with treatment. It offers support for the suffering, their families, and caretakers by providing an outlet for expression of feelings.
Music Therapy at Pottstown Hospital
Coming through the heroic feats of the pandemic, the hospital has focused music therapy efforts on frontline COVID-19 workers. A variety of offerings accommodates the unpredictable, stressful schedules of hospital staff.
"Patient care is always our priority," ensures the hospital's Community Wellness Program Manager Casey Fenoglio. Opportunities to soothe and rejuvenate through music help accomplish superior patient care. The hospital has taken advantage of a grant award to provide large-group music sessions, drop-in mini sessions, and live music experiences. All encourage participation, whether through a drum circle, singing, dancing, playing an instrument—or simple mindful presence.
"Pottstown Hospital's Music Therapy Program allows us to come together for healing and reflection. It's been simultaneously empowering and peaceful, especially for those worn from the relentless pandemic," shares Casey.
The hospital already recognized the benefits of music therapy through their program for patients. They were able to procure the same talented staff, led by Carolyn Quinn, MT-BC, who already managed their patient cohort to create this staff-focused program. The grant also allowed the purchase of a portable electric piano, which is relocated as needed to serve the greatest purpose by offering a "live music feel."
Expanding the Effort
Despite best efforts, teen dating abuse still exists. It can be painful for a parent or other loved one to
Casey hopes Pottstown Hospital can continue to sustain their Music Therapy Program beyond the grant. They have collaborated with other grant recipients in the area to enhance offerings. Music therapy sessions sometimes include over 50 participants, testifying to the joyful benefit.
Casey hints at some impressive initiatives in the works, including street music therapy for the homeless in our community. "As music therapy's profound impact to heal and strengthen is realized, we look to implement it in other industries," she notes.
Carry That Tune Home
Capitalize on music's power in your own life. From improving blood pressure to enhancing the duration and intensity of a workout, music gets results. Possibly best yet, its positive effects require no extra effort on your part. Just press play and groove along.
Source
"What Are the Benefits of Music Therapy?" by Heather Craig at www.PositivePsychology.com.