TriCounty Health Council Campaign Seeks to Save Lives
Pottstown, Pa. (Sept. 30, 2020)—The TriCounty Health Council, a collaborative comprised of leaders from Pottstown Hospital—Tower Health, Community Health and Dental Care, Creative Health Services, Pottstown Area Health & Wellness Foundation and other community organizations, is striving to save lives with a newly launched campaign, encouraging Pottstown area residents to seek the care they need. The message comes in response to alarming reports that individuals are neglecting to seek life-saving healthcare due to fear of COVID-19.
Heart attack and stroke are among the most prevalent threats and the results can be tragic when patients delay care.
"We're especially concerned about patients who may be experiencing stroke symptoms," said Lori Lorant-Tobias, DO, Medical Director of the Emergency Department at Pottstown Hospital—Tower Health. "It's imperative to seek care immediately if you think you're experiencing a stroke or any medical emergency as time is of the essence. We are equipped to provide you with the life-saving care you need. We urge you not to delay when it comes to your health."
Providers across the area have implemented rigorous sanitation, social distancing, and masking procedures to protect themselves and patients.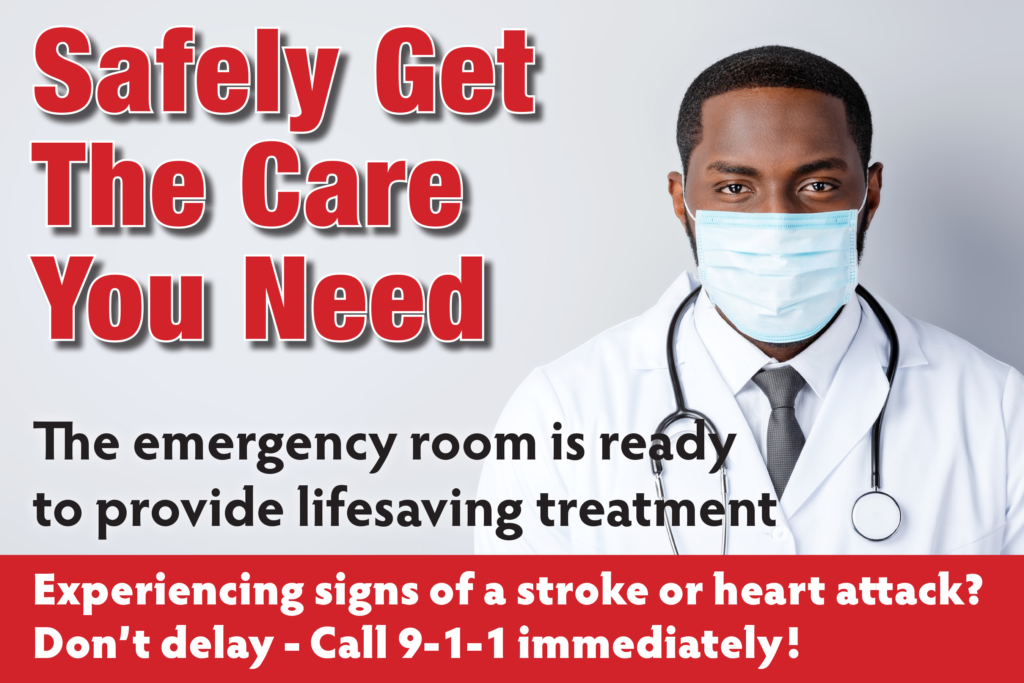 "We have estimated that up to 100 residents in the greater Pottstown area could be saved if they seek emergency care like they did before the pandemic," said John Harris, a Director with Veralon, a national healthcare management consulting firm headquartered in Bala Cynwyd.
Although the risk of acute conditions like heart attack and stroke is a focus of the campaign, it's important for residents to realize that area healthcare providers are here to help them maintain good health and manage chronic conditions as the pandemic's impacts stretch into the months ahead.
"One of the main areas where we are seeing a decline in visits are vaccines for children as well as annual well check appointments for adults which is a very important key component for people's health", said Community Health and Dental Care (CHDC) CEO, Bridgette McGivern. CHDC is providing telehealth and face-to-face visits during the pandemic and urges people to come into the health center to get routine care as well as annual well check-ups including dental, behavioral health and vision.
The importance of preventive visits can be life changing and these visits are critical for detecting a chronic care disease before it begins. CHDC provides face-to-face visits in a safe environment with many social distancing precautions in place for staff and patients.
Behavioral health support remains an area of vital importance and providers in the Pottstown area are equipped to help.
"Individuals may be feeling more stressed, anxious, and depressed as we continue social distancing. In April 2020, 14 percent of Americans were already experiencing serious psychological distress, more than triple the rate in 2018 and now we are moving into October. We're here for you at Creative Health, via telehealth and in-person appointments, following all appropriate public health guidelines," shared Creative Health's CEO and Clinical Director Dr. Andrew Trentacoste.
While the entire community benefits from understanding that healthcare facilities are safe and accessible, getting the message to the senior population in particular is a priority for the campaign.
According to Brian Parkes, Executive Director of the TriCounty Active Adult Center, older adults are even less likely to seek help.
"We've heard from a lot of seniors who are scared to leave their homes, much less go to an emergency room," said Parkes. "They know they are in a very high-risk category, and they are doing everything in their power to avoid being exposed to COVID-19. We need to let them know they will be safe, and not to delay emergency care.