Howard Brown Promoted to Foundation Leadership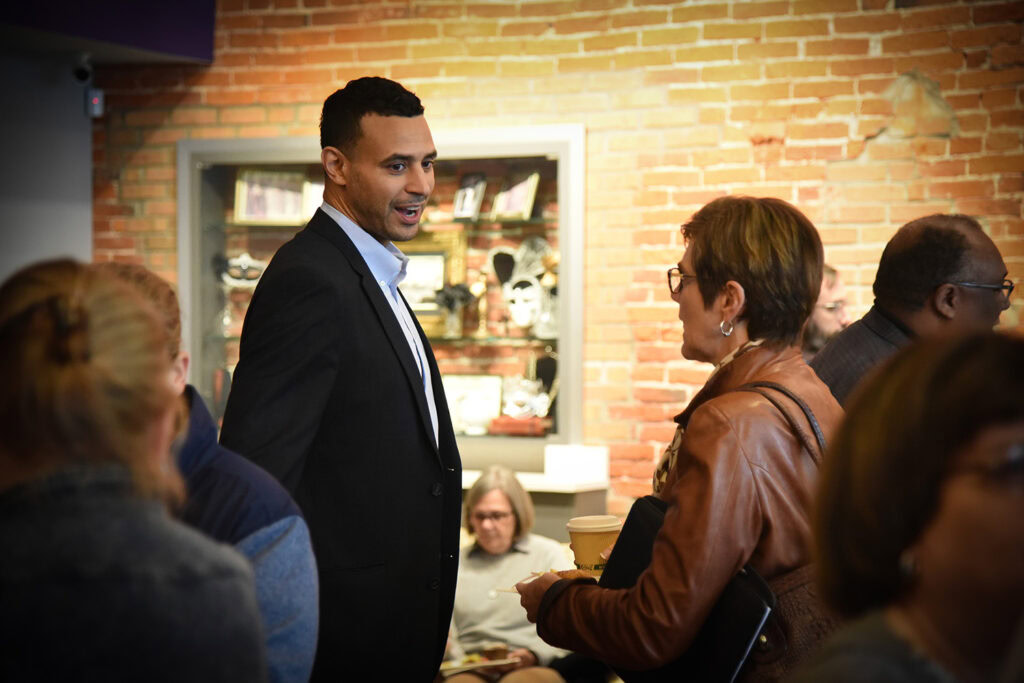 POTTSTOWN, Sept. 22, 2020—As the Pottstown Area Health & Wellness Foundation strives to bring community voices together, senior program officer Howard Brown's roots in the Pottstown community provide connections for building a brighter future.
"I want to use my platform to elevate those voices who feel like they are sometimes left out—the voices of friends, families, and the community that I grew up in and that I love," said Brown. "The Foundation has a great track record of collaboration, and by giving those voices and ideas opportunities to flourish, we can systemically see change and continue to build momentum for a greater society."
Brown was promoted to the role of senior program officer this summer, and, in his new role, he'll lead program staff members who manage the day-to-day grant making, community collaboratives, and strategic partnerships.

Born and raised in Pottstown, Brown joined the Foundation staff as a program officer in April 2016. Brown gained fame early on as a key member of Pottstown High's 1992-93 state champion basketball squad. Brown captained Villanova University's basketball team and went on to a successful career in professional basketball following graduation, playing in the U.S., Spain, Portugal, Israel, Venezuela, and Italy.
After retiring from professional basketball in 2012, Brown took on a role at Social Solutions, a global performance management software company for human service organizations and began his pursuit of a master's degree in international business from the University of London. Brown currently serves on multiple community boards, including the Tri-County Community Network, the Foundation for Pottstown Education, and Pottstown Hospital, Tower Health.
"At the end of the day, I'm a kid from Pottstown who never thought I would have the chance to do something like this," said Brown. "I've been blessed with a great opportunity, and I'm excited about it."
That opportunity comes at a time when the Foundation is seeking new avenues to measure and amplify its impact on the health and prosperity of Pottstown area residents.
"The Foundation is entering a new chapter in many ways. It's important that we have a leadership team that promotes building relationships within our community as well as enabling us to leverage resources from beyond the Tri-County area," said Dave Kraybill, president of the Foundation.
Brown's responsibilities will increase in the coming months as he works closely with each member of the Foundation's nine-member staff.
"Some of my leadership style was recently demonstrated in the pivot of Healthy Bodies Healthy Minds Institute from a traditional professional development opportunity for local educators to a virtual conference with a focus on equity in schools as well as the launch of the Foundation's COVID-19 Relief and Recovery Fund for Social Service and Micro Business." said Brown. "Addressing the evolving needs of the community we serve is something I greatly look forward to, and I'm excited to continue to bring out the strength of our collective staff and institutional partners to build and sustain cohesion as we move towards a more prosperous and healthy community. I'm a leader who looks to advocate for and empower those around me. I truly believe that's the way that great things can happen."
Brown led the effort to create the COVID-19 Relief and Recovery Fund, which has provided community nonprofits and micro businesses with over $200,000. Brown instigated and managed efforts for the relief fund and worked alongside PAHWF staff to raise over $20,000 from individuals within the community toward the recovery fund, which remains open for contributions.
Brown will contribute to the Foundation's continued efforts to promote greater equity in the Pottstown community and will help direct the initiative to bring outside funding into the community as the Foundation establishes a new grant writer position.
"We're uniquely positioned to address our area's most pressing needs, particularly in the areas of education equity, health equity, and economic equity," said Brown. "With the capabilities that a grant writer brings, we'll be able to tell our collective story to the greater world of philanthropy, to the world of corporate giving, and to government. This will allow us to leverage greater resources to provide even greater impact through the work that we do."
The Pottstown Area Health & Wellness Foundation serves communities within a 10-mile radius of Pottstown, and works with non-profits, local government, and schools to ensure that every member of our community has the opportunity to embrace a healthy lifestyle.