Simple Steps for a Safe Halloween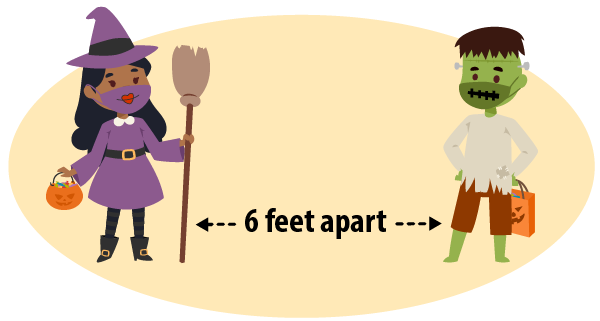 Wash hands, wear a mask, and social distance to keep this year's festivities safe for all.
This year's Halloween celebrations promise to be unique, but with a few small changes, we can keep our community safe while enjoying a much-needed holiday for kids and adults alike.
When it comes to preparing for trick-or-treaters, it's best to avoid direct contact with those outside of your household. Instead, try setting up a table with spooky decorations outside your door and stock it with treats ready for kids to take.
Set up a station with individually bagged treats.
Wash hands before handling treats.
Wear a mask when restocking your treat station.
Avoid using candy bowls that can't be contact-free.
Incorporate a cloth mask into your Halloween costumes.
Bring hand sanitizer with you and use it after touching objects or other people, making sure to use hand sanitizer with at least 60% alcohol.
Wash your hands with soap and water for at least 20 seconds when you get home and before you eat any treats.
Just like every year, make sure costumes have bright, visible elements that are easily seen in the dim light and are made of flame-retardant materials.
There are tons of fun alternatives to trick-or-treating in our area.  Enjoy the crisp weather on Saturday with any of these activities:
Visit a pumpkin patch or orchard. Frecon Farms' orchard is a great place to pick apples and teach kids about where our food comes from.
Visit a corn maze. There are several options in our area, including Wilcox Farms. Make sure to take a mask in case you pass any other families in the maze.
Hide Halloween treats in your house or around the yard—just like an Easter-egg hunt.
Plan a moonrise walk in the park to enjoy the rare Halloween Blue Moon. In Pottstown, the moon comes up at 6:20 p.m. on Saturday.
Keeping hands clean, wearing a mask, and maintaining social distance are key to keeping this year's festivities safe and fun. Together we can keep one another safe and slow the spread!