Dental Care Keeps Kids Smiling
Studies prove a healthy mouth is linked to improved health overall. Good oral health plays a vital role in disease prevention. Proper dental hygiene should become a positive habit early in life. Take time during February, National Children's Dental Health Month, to brush up on facts …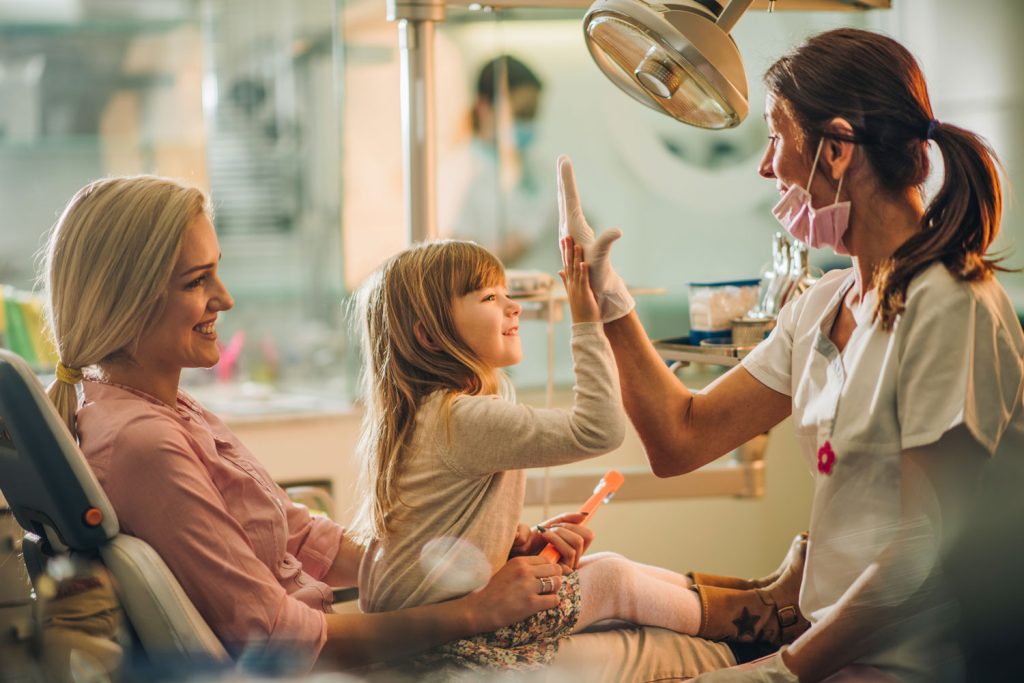 Reality
Despite being highly preventable, tooth decay is the primary chronic infectious disease affecting children in the U.S. By five years old, about 60 percent of kids are affected by it, according to the American Academy of Pediatric Dentistry (AAPD) 2021 State of Little Teeth Report.
Beyond the obvious physical implications (like pain and expense), children with oral health issues are three times more likely to miss school. Suddenly, the impact of children's dental health, even when they still have "baby teeth," is seen for its greater significance.
Start Young
The AAPD recommends every child have their first dental visit by one year old. Even though a child is still teething, dentists can check overall mouth health. They can share insight on what to expect for healthy development of gums and teeth. Starting visits early also helps ensure positive lifelong dental habits. Your child will grow up knowing the importance of dental care and feeling comfortable in the dentist office.
It's easy and convenient to get started at Community Health & Dental Care. They provide a "Total Dental Program" with comprehensive services for all ages, including emergency situations like toothaches and broken teeth. They accept most major insurance plans. For those in need, they offer discounts of up to 100 percent, if qualified.
Brushing Tips
Good oral hygiene begins at home. Young children love to copy adult behavior. Model proper brushing and flossing habits. Get them excited to pick up their own toothbrush and get the suds foaming.
Stick to a twice daily schedule. Don't allow "nights off" for good behavior or because they (or you) are tired. Use those times to reinforce the importance of healthy teeth and gums.
Use a brushing timer, often sold with kids' toothcare items, so they can recognize the 2-minute brushing requirement. Get creative—play a fun song, involve stuffed animals, or even tell a short story. Make brushing less of a chore.
Limit toothpaste until they learn not to swallow it. Ask your child's dentist for the best time to introduce toothpaste. Also, get a recommendation on toothpaste. Often, it's a matter of finding one your little brusher enjoys most. It could be a flavor or even the packaging!
Introduce a sticker chart to mark each brushing/flossing. After a chosen number of stickers, consider a small reward. A new toothbrush? One that jingles maybe?
Replace toothbrushes as soon as bristles fray or after an illness, especially one like strep throat.
Begin early. Brush baby's gums with a soft finger toothbrush. As an added bonus, you'll be massaging away teething soreness.
Beyond Brushing
Don't forget to minimize sugar intake. A healthful diet, with limited juice and other sugary treats, prevents cavities. This is true even for babies and toddlers who use bottles and sippy cups. Good oral hygiene is a significant part of a healthy lifestyle. We cannot protect our kids from all of life's pain and illnesses. However, with simple habits, we can teach them to maintain healthy teeth and gums.
Source