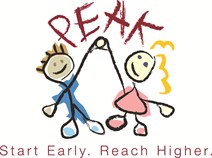 Community Collaboratives
PEAK
Pottstown Early Action for Kindergarten Readiness 
There are many community outreach programs in the greater Pottstown area that achieve success by touching the lives of others. It is rare, however, that you find a program that touches many lives at a very early age for whom successful outcomes can last a lifetime. That program is the Pottstown Early Action for Kindergarten Readiness, or PEAK.
This unique program has become a state and national model that involves private and publicly funded childcare agencies in dramatically improved early learning outcomes. United Way, the Foundation, and private philanthropy and government have joined to provide ongoing funding and leadership.
The PEAK initiative focuses on building partnerships with the early learning programs in the Pottstown community. The goals of PEAK are:
Every three- and four-year-old child has access to high-quality child care, early childhood education, pre-kindergarten and kindergarten.
Every parent of young children has access to the high-quality skill-building and resources needed to prepare them to be their child's first "teacher," and to prepare their children for success in school.
Every child has access to health and wellness services to ensure that they are prepared to maximize their potential in school.
Why coordinate an initiative that starts at such an early age? The PEAK managing partners determined that there was a lack of knowledge in the community concerning the importance of high-quality early learning experiences and limited information about the resources available to families and the importance of the family in the child's educational process.
PEAK, which is funded in part by the Pottstown Area Health & Wellness Foundation and its other community and managing partners, understands the need to have a strong focus on improving the health, nutrition, physical activity and safety of children.
The other key is to get parents involved, especially in the classroom. Engaging parents in their child's education and providing them the resources they need to help their child be successful is also a major part of what PEAK sets out to accomplish.