Community Collaboratives
Pottstown Area Food Collaborative
Pottstown Area Food Collaborative (PAFC) was formed in 2019 on a common belief that it is possible to collaboratively design and create a local food economy, and that such a shift would have a massive impact on reducing or eliminating food insecurity and improving residents' quality of life.
PAFC is a group of highly engaged, cross-sector entities with a shared vision for a localized food system that increases access to healthy, affordable, culturally appropriate, sustainably produced food. The Collaborative views food as not only a basic need and a human right, but also as a re-generator of the local economy.
The PAFC will expand, coordinate, and connect options for local and sustainable food production, distribution, and education regarding purchasing and preparing healthy food. These efforts will increase healthy food access, healthy food consumption, and reduce waste, ultimately leading to improved health and economic outcomes for Borough of Pottstown residents.
Pottstown Area Food Collaborative's Goals
Primary 
Increase access to affordable, local, healthy* and culturally relevant food;
Increase local production and distribution of healthy food;
Increase healthy food consumption;
Improve health outcomes (i.e. obesity, chronic disease) in the Borough of Pottstown.
Secondary 
Reduce food waste.
A community food system is one in which sustainable food production, processing, distribution and consumption are integrated to enhance the environmental, economic, and social and nutritional health of a particular place.
PAFC is guided by a Collective Impact Model to solve complex societal problems, which utilizes five conditions that include:
Common Agenda: Use of population results and indicators to articulate a common agenda.
Shared Measurement: Define performance measures that align with common agenda to make informed decisions.
Mutually Reinforcing Activities: Use transparency to plan and guide strategies and goals.
Continuous Communication: Communicate between partners, funders, and the public.
Backbone Support: Support infrastructure to build capacity.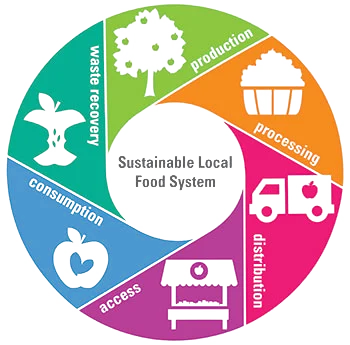 Trellis for Tomorrow: Create transformative, real-world opportunities for youth through teaching critical life skills, promoting personal growth and connecting youth to mentors, their communities and meaningful employment.
GreenAllies: To empower and support students as they become our environmental sustainability leaders.
Pottstown FARM: Provide fresh, locally grown, agricultural products and hand-made artisan goods to the Pottstown Region.
Mosaic Community Land Trust: Provide permanently affordable housing and healthy living choices to people of modest means, and through education and participation, creates a vital community with a focus on arts and culture to stabilize neighborhoods and improve the quality of life in Pottstown.
Pottstown Cluster of Religious Communities: Through interfaith cooperation, the PCRC provides tangible services, support and spiritual guidance to address the basic needs of persons within and beyond the Greater Pottstown area.We coordinate our programs and referrals to help clients improve their overall stability.
Pottstown Area Health & Wellness Foundation: The Foundation enhances the health and wellness of area residents, providing education, funding, and programs that motivate people to adopt healthy lifestyles.
Hobart's Run: Create a clean and safe community, foster inclusivity, provide incentives for home ownership and property pride, and generate quality business development.