Virtual Townhall-The Latino Community & COVID-19: Feb. 16, 7 p.m.
---
Local healthcare and community leaders will share the latest information on prevention, vaccines, and answer your questions and concerns. Register today at: http://www.montcopa.org/townhall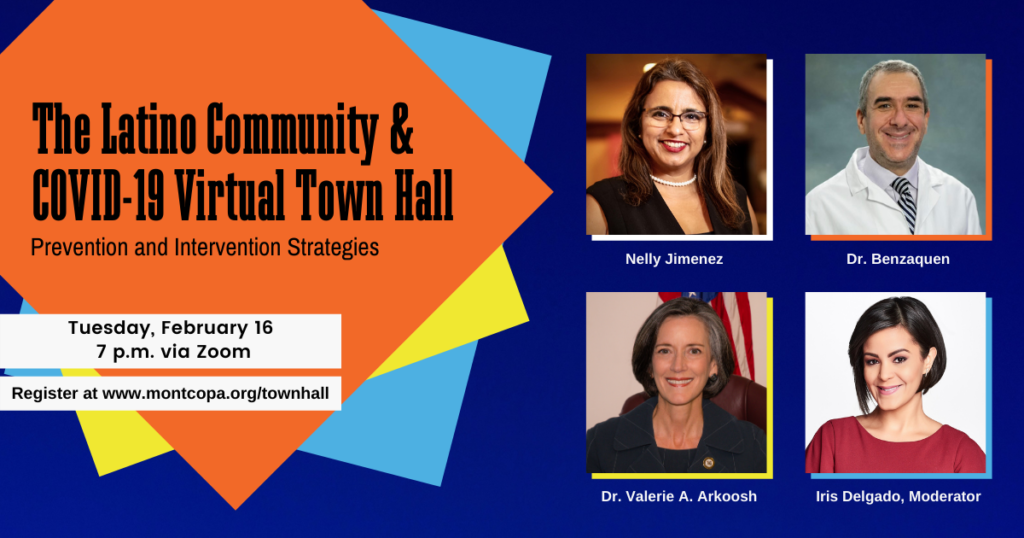 SPEAKERS:
Sadia Benzaquen, MD, Chair of Pulmonary, Critical Care & Sleep Medicine, Einstein Healthcare Network
Nelly Jimenez, Executive Director & CEO, ACLAMO Family Centers
Valerie A. Arkoosh, MD, MPH, Chair, Montgomery County Board of Commissioners
Iris Delgado, Moderator, Telemundo62
***
¡Se proveerá interpretación en español!
La Comunidad Latina y COVID-19: Estrategias de prevención e intervención
Presentacion Virtual
Martes 16 de Febrero
7 p.m. vía Zoom
Los líderes comunitarios y de atención médica locales compartirán la información más reciente sobre prevención y vacunas. También responderán sus preguntas e inquietudes.
– Sadia Benzaquen, MD, Presidente de Medicina Pulmonaria, Cuidados Intensivos y del Sueño, Einstein Healthcare Network
– Nelly Jiménez, Directora Ejecutiva y CEO, ACLAMO Family Centers
– Valerie A. Arkoosh, MD, MPH, Presidenta de la Junta de Comisionados del Condado de Montgomery